Press Kit
Locket is a new photo-browsing app for your iPhone. It's free to try in the App Store, and there's an in-app purchase, Locket Plus, that unlocks a few premium features, while supporting the SUDC Foundation. You can download screenshots below, and if you've got any questions, please contact me!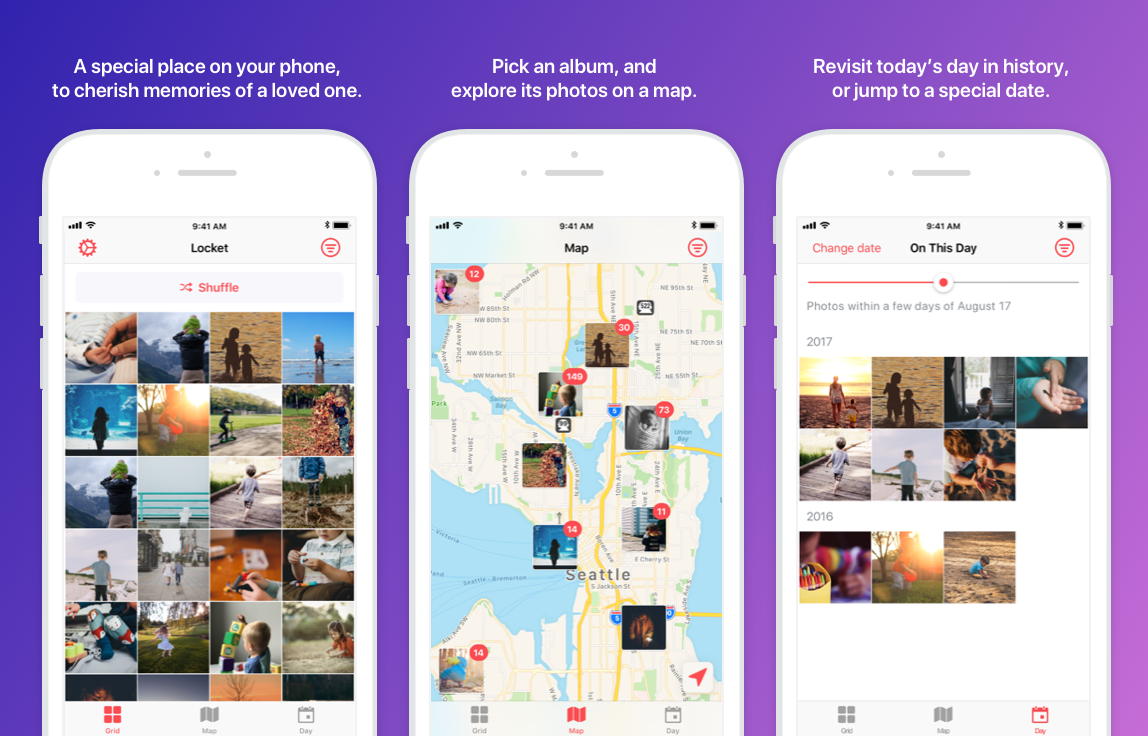 What is Locket?
Locket is an iPhone app that gives you a place on your phone to revisit your photos in a new way. (The photos stay on your phone - think of Locket as a "different lens" to view your existing Photos library - it makes a wonderful companion to the iOS Photos app.) Features include:
Single Album: If you want, you can focus Locket on a single album (or Shared Album) to give it a special place on your home screen.
On This Day: view this day in history, or change the date and view all items from any day in history. You can also schedule a notification when items on-this-day are available.
View your photos on a map: find photos taken nearby, or zoom around to find those photos you took at the beach.
Pull-to-Shuffle: No matter the size of your Photos library, it's wonderful to shuffle things up and bounce around to different memories.
Filters: on any screen, you can filter to only show photos, Live Photos, videos, favorited items, and more.
Locket Plus
is a small in-app subscription (or one-time purchase) that unlocks some premium features:
Shared Albums: You can use a Shared Album as your Locket.
Alternate Icons:Choose from many alternate icons to customize Locket's spot on your home screen.
Who wrote Locket?
Hello!
Bryan Clark
here. I live in Seattle, and I've been designing and developing iOS apps since 2011. I'm the
mobile lead at Khan Academy
, and have been on the team here since 2015. Previously, I was a lead designer on the
Starbucks mobile team
(from 2012-2015), where I helped redesign the iOS app, led the mobile-interaction-design efforts for mobile ordering, and made the first version of the Starbucks watchOS app. I've made a couple of other indie apps, including
Threadnote
and
Blixt
(neither of which are on the App Store today).
Why did you make Locket?
In September 2017, we lost our 2-year-old son to Sudden Unexplained Death in Childhood (SUDC). Our photos and videos of him are precious to us - we've scoured our photo libraries for everything we can find of him, and while it's helpful to have them available in the iOS Photos app, they get lost in the mix. We're very fortunate to have thousands of photos and videos of him - which made me want to build an app to house and explore them. I wanted a special place on my home screen, where I could quickly open and revisit this album.
What is the SUDC Foundation?
The
SUDC Foundation
is dedicated to supporting SUDC families, conducting research, and advocating for better public policy to support research and support. SUDC is rare - but it has little-to-no public funding for research yet. After we lost our son, somebody mentioned the SUDC Foundation - they were extremely helpful in the early weeks, and continue to provide support and guidance to us and many other families who've lost a child to SUDC. I donate 30% of Locket's income to the SUDC Foundation. My hope is that if Locket becomes widely adopted, it can become a significant fundraising source for the SUDC Foundation.
Want to learn more?
Check out Locket's
blog
, read the
FAQs
, or
contact me
. I'd love to talk.
Downloads
Download Press Kit
Download on the App Store